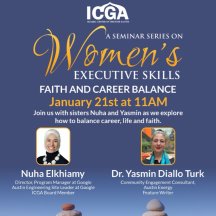 Description:
Join us for these workshop sessions ran by executive Muslim Women for women:
JANUARY 221st: 11AM-12PM
Establishing Presence: The Balance Between Career and Life
With so much to get done in a fast-paced dunya, the struggle to balance it all is real. Join us as we explore how be present and mindful on the journey to attain that balance with Sisters Nuha and Yasmin.
Refreshments will be provided.
About Nuha Elkhiamy:
Nuha Elkhiamy is a Director of Program Management in the Corporate Engineering organization where she oversees program & solution delivery across a number of enterprise platforms including contracting, compliance, and collaboration solutions.
Nuha is also the Austin Engineering Site Leader where she oversees the culture, workplace, and career development experiences for engineering employees. As part of this role, Nuha is also active in the Austin community. Nuha facilitated Huston TIllotson's application and acceptance into Google's HBCU Career Readiness program receiving a $1MM grant to support technical skill development. Nuha also led the Diversity, Equity & Inclusion (DEI) pillar where she developed the first Early Talent & Career Development pipeline focused on STEM outreach from middle school to university programming. With the support of the Austin engineering volunteers, Google Austin was named a top 10 corporate partner to Code2College, a non-profit dedicated to increasing the number of minority and low-income high school students who enter and excel in STEM undergraduate majors and careers, in 2021.
Before Google, Nuha was at General Electric (GE). She began her career in GE's Digital Technology Leadership Program and held roles across project management, product management, and application engineering. While at GE, Nuha's primary focus and passion was delivering enterprise applications. Her career highlights include co-designing and launching GE's performance development approach which received accolades from Harvard Business Review and Fast Company. Nuha also partnered with GE's Crotonville learning organization to launch GE's first social learning platform. While at GE, Nuha led Detroit's first award-winning Women's Network Hub and championed GE's first Girls Who Code summer program.
Nuha resides in Austin, TX. She enjoys spending time with her husband and two children as well as the family cat, Pikachu. You can often find the family exploring new cuisines or partaking in many of Austin's rich cultural experiences.
About Yasmin Turk:
Yasmin Turk joined Austin Energy's Corporate Communications team in August 2021. As Austin Energy's community engagement consultant she plans, develops, and implements strategies and programs to help facilitate bidirectional communication between community stakeholders and Austin Energy.
Prior to Austin Energy, Turk worked for over 20 years in the areas of sexual and domestic violence, child welfare and human trafficking. Beyond the workplace, Turk is the co-chair for the Austin chapter of the sisterhood of Salaam Shalom, a feature food writer for the Austin Chronicle, and the mother of three children.
Turk holds a Bachelor of Arts in sociology from Huston-Tillotson University, a Master of Global Policy Studies from the LBJ School of Public Affairs and a Ph.D. in environmental geography from Texas State University.
Previous events:
OCTOBER 8TH: 10AM-12PM
Human Resources: Know Your Rights and Build a Captivating Resume
Learn your rights from an unbiased Human Resources Executive and gain tips on how to make your resume stand out from the rest. This session will also be a Q&A session, discussion and workshop.
Refreshments will be provided.
NOVEMBER 12TH: 10AM-12PM
Financial Portfolio: Halal Investing and Finding Financial Independence 
Explore how to build financial independence, finding the right investments, and personal budgeting with Sister Eman Kallash and Br. Hud Williams
Hud K Williams, Regional Manager, joined Saturna in June 2021. He has over 20 years of financial services experience, working in a variety of fields from financial systems implementation to Islamic-compliant home finance. His education background includes an undergraduate degree in Economics (Old Dominion University), an MBA with a finance concentration (Georgia Institute of Technology), and he is currently working on a Certificate in Islamic Finance (The International Centre for Education in Islamic Finance, INCEIF, located in Kuala Lumpur, Malaysia). Mr. Williams is married with six children and splits his time between family, work, and the community. He is currently serving on the board of the Atlanta Masjid of Al Islam and Muslim Aid USA relief organization.
Eman Kallash is a self-made entrepreneur, broker, real estate agent, and stock market trader.
Refreshments will be provided.
LOCATION
Masjid Khadijah – 5110 Manor Rd. Austin, TX, 78723
---
Location:
Islamic Center of Greater
5110 Manor Rd
Austin , Texas 78723 United States
+ Google Map

---
More upcoming events