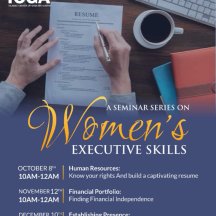 Description:
Join us for these workshop sessions ran by executive Muslim Women for women:
OCTOBER 8TH: 10AM-12PM
Human Resources: Know Your Rights and Build a Captivating Resume
Learn your rights from an unbiased Human Resources Executive and gain tips on how to make your resume stand out from the rest. This session will also be a Q&A session, discussion and workshop. 
Refreshments will be provided. 
NOVEMBER 12TH: 10AM-12PM
Financial Portfolio: Halal Investing and Finding Financial Independence 
Explore how to build financial independence, finding the right investments, and personal budgeting with Sister Eman Kallash and Br. Hud Williams
Hud K Williams, Regional Manager, joined Saturna in June 2021. He has over 20 years of financial services experience, working in a variety of fields from financial systems implementation to Islamic-compliant home finance. His education background includes an undergraduate degree in Economics (Old Dominion University), an MBA with a finance concentration (Georgia Institute of Technology), and he is currently working on a Certificate in Islamic Finance (The International Centre for Education in Islamic Finance, INCEIF, located in Kuala Lumpur, Malaysia). Mr. Williams is married with six children and splits his time between family, work, and the community. He is currently serving on the board of the Atlanta Masjid of Al Islam and Muslim Aid USA relief organization.
Eman Kallash is a self-made entrepreneur, broker, real estate agent and stock market trader.  
Refreshments will be provided.
DECEMBER 10TH: 10AM-12PM
Establishing Presence: The Balance Between Career and Life
With so much to get done in a fast-paced dunya, the struggle to balance it all is real. Join us as we explore how be present and mindful on the journey to attain that balance.  
Refreshments will be provided.
---
Location:
Masjid Khadijah
5110 Manor Rd
Austin , Texas 78723 United States
+ Google Map

---
More upcoming events