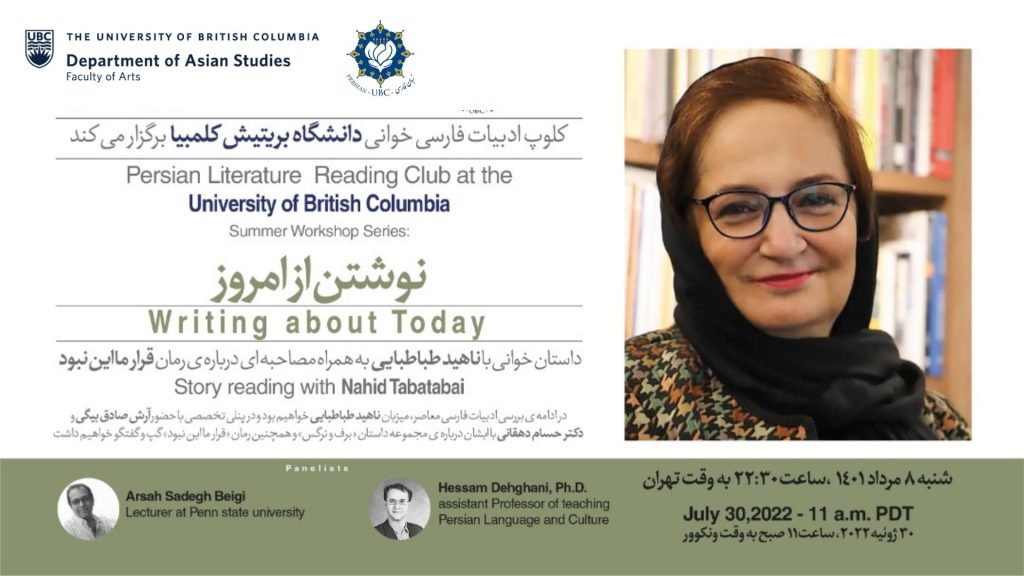 Description:
The Persian Language and Iranian Studies Initiative at UBC, the UBC Persian Literature Reading Club, and the UBC Persian Club are hosting a series of events analyzing the literature of migration and exile in Modern Persian Literature in the Summer of 2022. The second session of the Summer 2022 series features Iranian writer Nahid Tabatabai. Joined by panelists Dr. Hessam Dehghani (Assistant Professor of Teaching Persian Language and Culture at UBC) and Arash Sadegh Beigi (Iranian writer and journalist), the session will delve into Tabatabai's works, "Narcissus and Snow" and "Not the Deal we made."
The event is sponsored by the Department of Asian Studies.

Date & Time:
Saturday, July 30, 2022
11am (PDT) / 10:30pm (Tehran Time)
Location: online via Zoom
Presented in Persian
Free & open to the public. Registration is required via the form below.
Register for ""Writing about Today" Story reading with Nahid Tabatabai"
---
---
More upcoming events