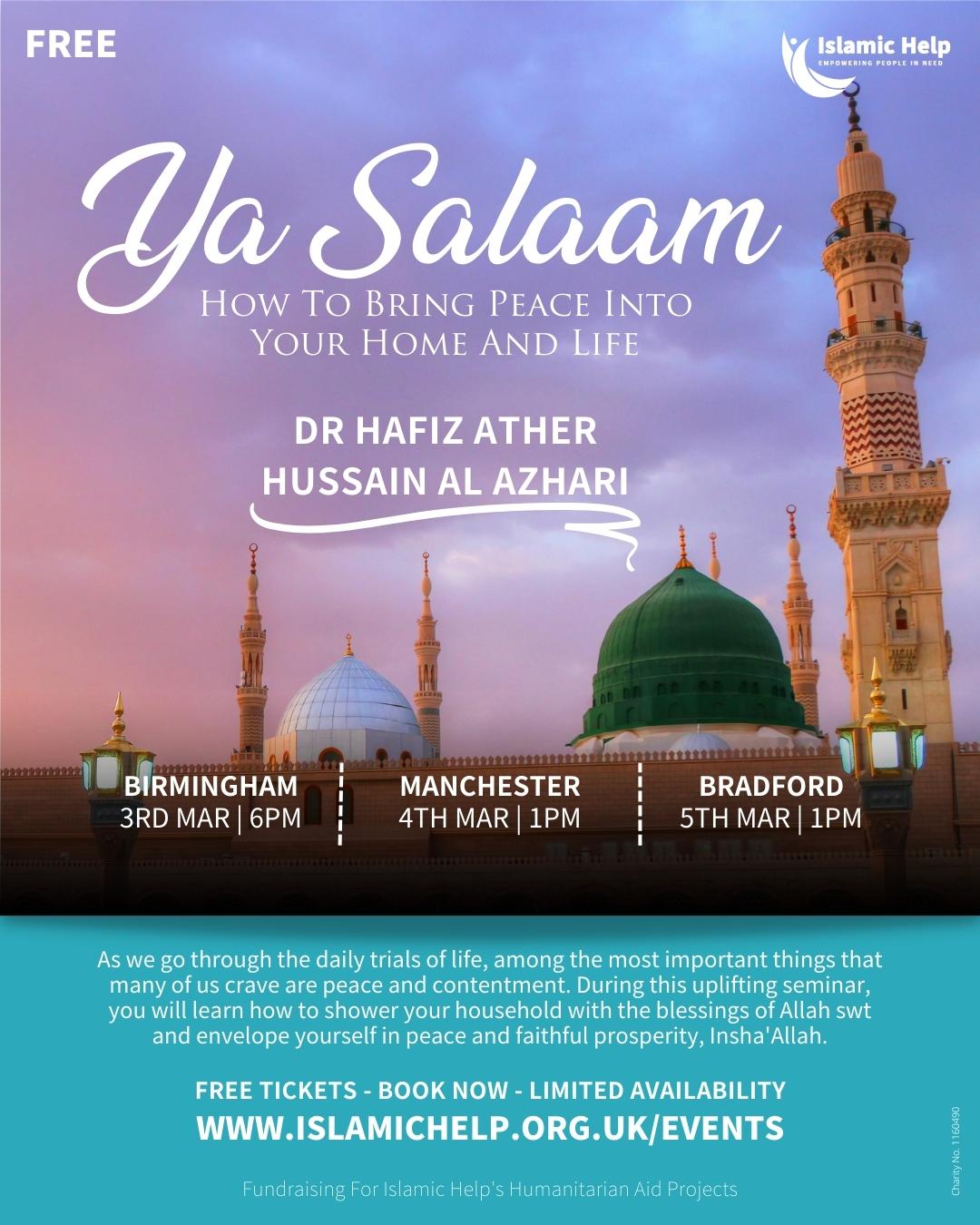 Description:
"Allah has made your houses a place of rest for you…"[Qur'an 16:80]
In a day and age where there are many uncertainties unravelling, it is challenging for us to attain peace within ourselves and for our household. As human beings, we naturally crave and desire the feeling of peace and contentment for ourselves and for our family.
Islam encourages us to develop characteristics that produce acts of goodness. But how do we reform ourselves and our homes to attain continuous blessings and peace?
To find out, join Islamic Help in a very inspiring and enlightening seminar, where Dr. Hafiz Ather will be providing you with practical steps and guidance from the Qur'an and Sunnah on how you can make your home into the productive and positive environment you want, bring peace and contentment within your household, and enrich yourself and your family to live a life flowing with tranquility.
BRIEF TOPIC OUTLINE:
As'Salam – the origin of peace?
Why do we require peace?
Understanding how Allah brings peace into our lives
Positivity and productivity from peace
How to attain peace and tranquillity
THE TEACHER
Dr. Hafiz Ather is an Imam, published author and a researcher. He began his Islamic education by completing the memorisation of the Holy Qur'ān at the age of 13. Between 1996 and 1999, he studied at al-Azhar University in Cairo – the oldest seat of Islamic learning in the world. He specialised in Hadīth Studies and graduated in BA Principles of Theology in 1999. Upon returning to England, he joined the University of Birmingham to study BA Political Science, and he graduated with First Class Honours in 2003. In 2006, he completed his MPhil in Theology on the al-Jāmī of al-Khatīb al-Baghdādī and in 2012, he completed his PhD in Theology (on the Nuzha of Ibn Hajar al-Asqalānī), all at the same university.
---
Location:
Cedar Court, Mayo Ave
Rooley Lane
Bradford , BD5 8HW United Kingdom
+ Google Map

---
More upcoming events