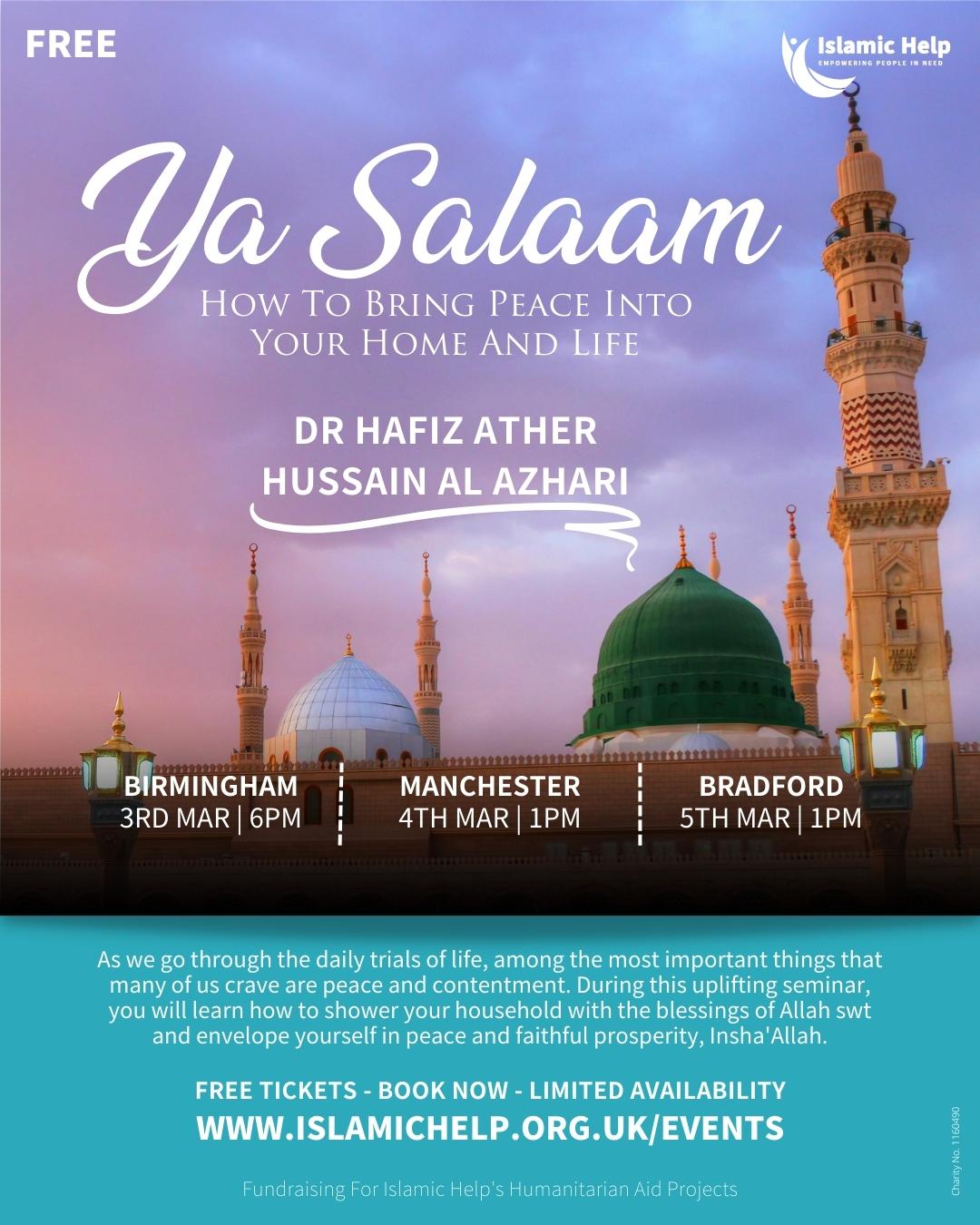 Description:
"Allah has made your houses a place of rest for you…"[Qur'an 16:80]
In a day and age where there are many uncertainties unravelling, it is challenging for us to attain peace within ourselves and for our household. As human beings, we naturally crave and desire the feeling of peace and contentment for ourselves and for our family.
Islam encourages us to develop characteristics that produce acts of goodness. But how do we reform ourselves and our homes to attain continuous blessings and peace?
To find out, join Islamic Help in a very inspiring and enlightening seminar, where Dr. Hafiz Ather will be providing you with practical steps and guidance from the Qur'an and Sunnah on how you can make your home into the productive and positive environment you want, bring peace and contentment within your household, and enrich yourself and your family to live a life flowing with tranquility.
BRIEF TOPIC OUTLINE:
As'Salam – the origin of peace?
Why do we require peace?
Understanding how Allah brings peace into our lives
Positivity and productivity from peace
How to attain peace and tranquillity
THE TEACHER
Dr. Hafiz Ather is an Imam, published author and a researcher. He began his Islamic education by completing the memorisation of the Holy Qur'ān at the age of 13. Between 1996 and 1999, he studied at al-Azhar University in Cairo – the oldest seat of Islamic learning in the world. He specialised in Hadīth Studies and graduated in BA Principles of Theology in 1999. Upon returning to England, he joined the University of Birmingham to study BA Political Science, and he graduated with First Class Honours in 2003. In 2006, he completed his MPhil in Theology on the al-Jāmī of al-Khatīb al-Baghdādī and in 2012, he completed his PhD in Theology (on the Nuzha of Ibn Hajar al-Asqalānī), all at the same university.
TERMS & CONDITIONS AND EVENT RULES:
Strictly no video or audio recording is allowed.
Please try to wear a mask to help prevent the spread of Covid-19.
If you have any Covid-19 symptoms, please do not attend this event.
Seating will be segregated and is on a first-come, first-served basis, this means if you arrive late, there is a chance you will not be allowed to enter the venue as there is a seating capacity. Due to the number of people who book tickets and then do not turn up to events, we need to oversubscribe for the events.
Organisers reserve the right to refuse entry or evict any individual or group at any time at the organisers discretion.
Your ticket has no monetary value, we will not provide any cash or financial refunds.
CHILDREN:
PLEASE NOTE, THIS SEMINAR WILL DISCUSS SOME TOPICS WHICH MAY FRIGHTEN YOUNG CHILDREN, IF YOU THINK YOUR CHILD MAY BE FRIGHTENED BY THE TOPICS OF JINN OR EVIL SPIRITS PLEASE DO NOT LET THEM ATTEND THIS SEMINAR.
We appreciate that it can be difficult to attend valuable seminars when you have children to take care of and its difficult to find a child minder. Children are welcome to attend this event with you however they must be kept with you at all times. If your child is restless or makes a lot of noise, please do not bring them to this event as they will disturb other attendees and the seminar instructor. If your child makes a lot of noise and you are unable to calm them down, if they continue to run around the venue or between the seating areas, we will unfortunately have to ask you to leave. If you bring your child in a pram / push chair please DO NOT block the pathway with the pram / push chair as this will cause a health and safety issue and we will ask you to move or leave.
NOTE:
Food will not be served at this event, as this event is in the evening, we appreciate that some people might want to bring food with them, this is perfectly fine however please try to avoid any food which carries a strong smell as this could disturb other attendees. We will try our best to have a snack stall available during the event where items can be purchased.
During this seminar, we will have a short fundraising segment to support Islamic Help's Humanitarian Aid Projects.
PLEASE SHARE THIS POSTER WITH YOUR CONTACTS!
---
Location:
Park Inn by Radisson
4 Cheetham Hill Rd
Manchester , M4 4EW United Kingdom
+ Google Map

---
More upcoming events