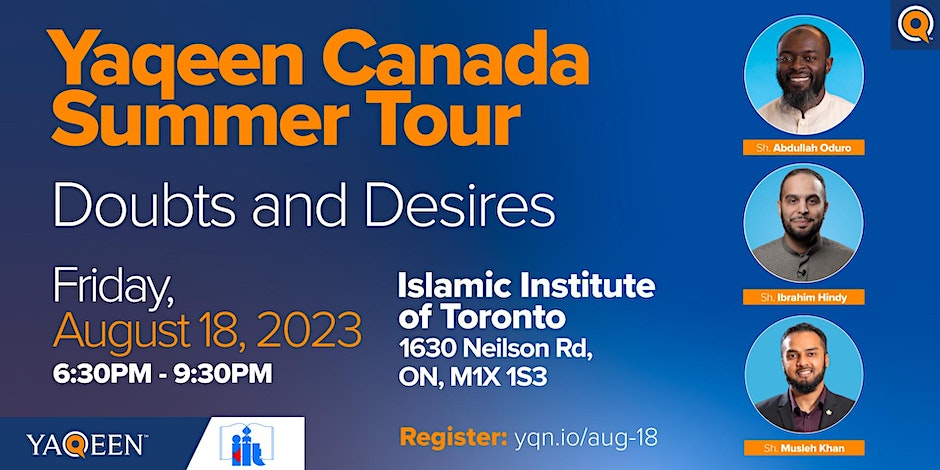 Description:
Faith in Allah is of paramount importance for the Muslim. But this faith is often challenged by doubts and desires, undermining it and rendering the Muslim weak in his connection with Allah.
This session explores the origins and nature of doubts and desires and provides practical guidance in addressing them.
SPEAKERS
Abdullah Oduro is a first generation Ghanian native that converted to Islam in 1997. He graduated from the College of Islamic Law from the University of AlMadinah in 2007. He conducts public speeches, sermons, lectures, and workshops around the US on Islamic Law, self-improvement, and convert life. He is currently the Imam at the Islamic Center of Coppell and Lewisville in Dallas, TX. He resides in Dallas, TX with his wife and four children. Having recently joined Yaqeen Institute for Islamic Research as a Scholar, Shaykh Abdullah leads a team providing unique and comprehensive resources for new Muslim converts and institutional convert care.
Shaykh Ibrahim Hindy:
Born and raised in Toronto, Imam Ibrahim had an early passion to study Islam and encourage youth to connect to Islam. Imam Ibrahim has been active in the Muslim community from a young age and was serving as a regular Khateeb in some of the largest Masajid in Canada since the young age of 18.
Shaikh Musleh Khan
Shaikh Musleh Khan – Resident Scholar IIT
Shaikh Musleh Khan was born in Madinah, Saudi Arabia. He was raised and is currently residing in Toronto, Canada. At college he studied computer programming and then went to work as a Fraud analyst.
In 2002 Shaikh Musleh was accepted at the Islamic University of Madinah where he completed a diploma in Arabic followed by a BA in Islamic Law from the faculty of Da'wah and Usool al-deen. He memorised the Qur'an with an ijaza and has completed a complete study of Sahih al-Bukhari.
Shaikh Musleh undertook a study of various Islamic books including those on Fiqh, Hadith, Aqidah, Tafsir. Futhermore, he took classes with various prominent scholars in the course of his time in Madinah, including Sheikh Mukhtar Al-Shanqiiti, Sheikh Muhsin Al-Abaad, Sheikh Abd al-Razak, and Sheikh Muhammad Shafi among others.
Upon graduating in 2011 he has returned to Canada and has plans to pursue a Masters at York University, Toronto. He has been very active in the Toronto vicinity for more than 10 years, having conducted khutbahs, classes, lectures and conferences, as well as various Islamic Intensive programs in the United States. Shaikh Musleh enjoys long-distance running and basketball. He loves to read and write in addition to spending time preparing for classes in Toronto where he and his wife reside.
---
Location:
slamic Institute of Toronto
1630 Neilson Rd
Toronto , Ontario M1X 1S3 Canada
+ Google Map

---
More upcoming events